Posted By

acoweb_root

On

Wed, Nov 9, 2022
In this Digital era, the best and cheapest platforms for profitable sales are ECommerce websites. A plethora of software is available for creating eCommerce websites. If you are looking for a solution for cheap and easy-to-maintain websites, then WooCommerce is the best one. WooCommerce is an open-source eCommerce software built on WordPress. With WooCommerce product addons, you can customise buttons according to the product.
Just building a website is not enough, we should make it search for the right customers. To drive more traffic and increase sales on eCommerce websites, we need to optimise them for Search Engines. SEO or search engine optimization plays a key role in making it available to potential customers. Here are some of the vital tips that are necessary for the SEO of eCommerce sites.
Tips for SEO of eCommerce Sites
1. Perform Keyword Research 
Keywords play a prime role in SEO since they are the phrases people use to search in Google for particular products. These are the terms you should focus on while creating the website. You can find the keywords from your competitor's websites and certain tools available for the same. Free and paid tools are available to find the keywords for a particular niche.
You can add any amount of keywords to your content but should be relevant for the search engines to find your page. For eg: if you add a product say ethnic dress on one page and western dress on another page and you are using the keyword "cosmetic", then the search engine won't be able to find you. Moreover, one keyword is worth 150 words, and adding more will give a negative effect. Additionally, add keywords to the meta title, meta description, and page content with high search volume and low or medium competition. Add proper keywords when adding products in WooCommerce custom product addons.
2. Necessary Product Description 
Adding product descriptions is a vital element for SEO and customers. A customer will hardly purchase a product just seeing the product. For eg: if you are selling dresses say "churidar material", the customer has the right to know the material, length of the material, etc., If you are adding these details with the relevant keywords, then you will have two benefits with one strategy. Additionally, add relevant buttons or boxes using WooCommerce product addons plugins. Try to include the relevant features of products in points and avoid using buzzwords, which will affect the impact of your site.
3. Avoid Plagiarised Content 
Plagiarised contents are those which appear on multiple sites and which in turn will immensely affect the site's performance. However, check for plagiarism before adding the content. It is equally important to add creative and attractive content to drive more traffic. There are free tools available on the market to check the content. Additionally, using artificial intelligence bots to create and paraphrase content will drop your rankings on search engines. 
4. Optimize for Local SEO 
Either you operate an offline store or an online platform, you must enhance local SEO. The local community can overturn many brands success if utilized appropriately. Additionally, enhancing your local geographic rankings might facilitate connections with numerous clients and service suppliers. Including location-relevant keywords and blogs will efficiently enhance your store traffic. Creating a profile on Google My Business will help you drive more local sales and can enhance your store's credibility with reviews from your loyal customers. Writing blogs and articles with proper keywords for the local community is also effective.
5. Navigate the Website More Simply 
The WooCommerce SEO results can be significantly impacted by factors like bounce rates and time spent on the site. You must ensure good user experiences and make site navigation simple with the aid of a user interface to ensure the success of your website.
All important links should be included in the site's main navigation, and the other ones can be placed in the footer. If you skip this step, Google search spiders won't adequately review and index search results. A slow navigation speed is also undesirable. In one or two seconds, the navigation should be finished. The customer may quit the website if it takes too long. Also the WooCommerce product addons buttons should function properly and quickly.
6. Utilize an SEO Plugin
If you're serious about improving your SEO, a good on-page optimization plugin will be quite beneficial. Even though,  WordPress and WooCommerce are both SEO-friendly you should do everything you can to enhance your ranks to improve your rank. There are other plugins available, but Yoast WooCommerce SEO is one of the best. This is a paid plugin, but it builds on the amazing Yoast SEO plugin by adding functionality tailored to WooCommerce.
7. Purchase a Credible Host 
Many believe that WooCommerce sites can work with any shared host. This is applicable if you are a small seller, but for large eCommerce sites, it may affect you. However, if you're serious about scaling your site, or if you have a huge volume of products or visitors, a WooCommerce-optimized host is a must. Choosing a specialized WooCommerce host will provide you with a hosting environment that has been properly optimized for WooCommerce. This will help with Website Hosting and SEO, which will benefit your visitors and search engine rankings.
8. Create a Mobile-Friendly Site 
A mobile-friendly store is essential. Google gives more importance to mobile since 80% of access is through mobile.  Your website must first pass Google's test for mobile friendliness. If you did well on this test, that's an excellent starting point. However, it still falls short. You should consider enhancing the mobile user experience factors. Your rankings will rise if you have evidence of a good user experience. Also, check whether the WooCommerce product addons plugins for customers are mobile-friendly.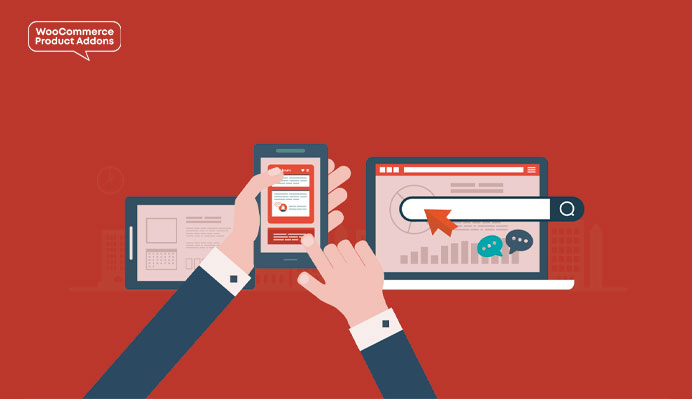 For example, you may build your website first and foremost with mobile visitors in mind. Google just announced that it is implementing a mobile-first index. This implies that the functionality and user experience of your site's mobile version will have an impact on how other versions of your site perform in search results.
9. Short URL Structure 
Is your existing URL structure complicated and lengthy? Long URLs with a lot of complicated characters can seem spammy. Making sure your permalinks reflect the most basic arrangement is one aspect of this. However, it also implies that any blog posts, categories, site pages, and products have all been optimized for a specific keyword. If in doubt, make sure your URL structure is as clear and straightforward as you can.
10. Employ Rich Snippets
Rich snippets improve the aesthetic of your search engine listings, which can significantly increase your site's Click through rate. This means that even if your rankings do not change, more people will visit your website. Rich snippets, in essence, add extra HTML to your pages, giving search engines more information about what your page is about. There are numerous sorts of rich snippets available, including some designed expressly for eCommerce sites. Some WooCommerce extensions will add Schema markup to your site, but additional good plugins include Schema and All In One Schema Rich Snippets.
Also Read: Secret Tips to Speed Up WooCommerce Checkout Process Easier
Conclusion
Search engines seek to give their users the finest results available. So, if you focus on your audience and give them a wonderful experience, you'll be well on your way to exceptional search engine optimization. I hope you now understand the importance of SEO and how to improve SEO for WooCommerce websites. Moreover, WooCommerce product addons should be relevant for the product purchase.