Posted By

acoweb_root

On

Wed, Sep 14, 2022
In today's rapidly evolving world,it is obvious that digital media is the primary space to enhance business and get more sales. Especially for products, e-commerce websites are a good option. Woocommerce plugins provided in wordpress are used to create simple and creative online stores. WooCommerce product addons is an excellent plugin. Which powers about 2.3 million e-commerce stores worldwide, is especially appealing to new e-commerce merchants because it combines ease of use with amazing power, flexibility, and features. Woocommerce Product AddOns enable your customers to personalise products while shopping on your website. 
Why Woocommerce?
When compared to other e-commerce platforms, woocommerce's responsive design, SEO-friendly interface, and advanced features make it the most popular worldwide eCommerce platform. Woocommerce is used by more than 26% of the top e-commerce websites for their online store. Woocommerce has built-in features. That enable the purchase process to be simple and user-friendly. 
The flexibility of Woocommerce custom product addons allows the seller to customise and modify everything from product placement to the entire storefront. It is a low-cost platform that is compatible with the world's most popular CMS platform, WordPress. There are a plethora of advanced built-in features, such as a pre-installed payment gateway, geolocation support, advanced inventory management, simple tax calculation, and many others, that make it the best eCommerce platform on the market.
Tips to Strengthen Woocommerce Platforms.
Did you just finish your WooCommerce store and are now looking for customers? It is vital to remember that customers do not appear out of nowhere. To begin, you must go ahead and begin promoting your business in the best way possible.
Offer Your Customers a Personalised Experience
A personalised experience is one of the reasons why people are moving to eCommerce platforms today. When a customer visits your website, they all want to feel special. There are many ways to give your user a personalised experience, including using personalised content, woocommerce extensions, and technology.
More than 48% of customers spend more time on eCommerce websites when their experience is personalised, according to a recent analysis. Additionally, 74% of visitors leave websites with non-personalized content, or content that has no relevance to them. When a potential customer visits your eCommerce website, keep in mind that they want to feel nurtured. Each of them also wants to be kept up to date on all the offers, new product launches, and other information.
Giving customers a personalised experience will undoubtedly increase your eCommerce sales. You can customise your visit to a woocommerce website in a number of ways. One such tool is Woocommerce product addons. Customers may switch to your competitor's website if your woocommerce doesn't impress them, and bringing them back is a very difficult process.
Promote Through Influencers, Magazines etc by Sending Free Samples
If you sell excellent products on your WooCommerce store, you must publicise them. What you can do here is try to send some free samples to influencers, bloggers, magazines, and anyone else you can think of. The greater your exposure in the online world, the better your results will be. You can start by attempting to use influencers, specifically YouTubers. Because YouTube has a massive exposure and audience, sharing ideas and products on the platform can be extremely beneficial.
You can send free samples to YouTubers in exchange for a product review and a link to your website/product in their video if you sell physical products. YouTubers who review products for their channels will typically include their email address somewhere on their channel. Write them an email and contact them instead of starting a conversation in the YouTube comments.
Provide Coupons and Discounts
Coupons and discounts is a potential strategy to get more sales and new customers. WooCommerce makes it simple to customise and manage product coupons. So, to increase your sales, examine your previous coupon campaign data and, based on that, create an appealing coupon that will entice your customers.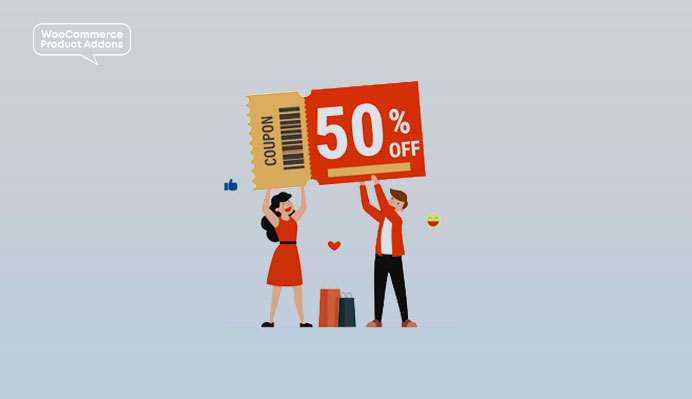 You can also nurture your current customers by providing special discounts on products they like. You can analyse your customers' purchasing habits and recommend a product coupon code based on that. Always provide an appealing coupon/discount code so that both new and existing customers are compelled to purchase your product.
Furthermore, place coupon codes in highly noticeable places on the website. Keep your promotional code from appearing on your website in obscure areas. Create a slider at the bottom of your page and use large fonts to draw attention to current product discounts. You can advertise your promotion code to make it visible to site visitors if your homepage has a sidebar or slider at the top. Additionally, you can advertise your coupon code on websites that sell coupons and on social media.
One thing to keep in mind about WooCommerce Stores is that you can take advantage of their excellent social media integration. All you have to do to use Facebook Ads is target the proper area and industry. The demographics must also be taken into consideration. If you do it well, adding an educational image or video may result in an impulse purchase.
Facebook integration is another potential aspect to boost sales since we can retarget existing clients through this. However, you need some patience since it takes time to get the required result. To reach the potential customers it will take upto few weeks.
Send Exclusive Emails to Customers
Using the power of email marketing can also be extremely beneficial. Customers almost always open informative or enticing emails. So you have a good chance of getting more exposure for your WooCommerce Store in this manner. The idea is to focus on what your audience wants and provide the best way for them to achieve those desires.
Send messages to customers who have previously purchased from your WooCommerce Store. You do require new customers, but you should also prioritise customer retention. This is critical, and it can provide you with numerous benefits and recurring sales.
Reminder Emails Regarding Abandoned Carts
Email is the most efficient and effective method of communicating with your customers. You can send an enticing email to remind your customers about the product they did not purchase during the checkout process. This type of email is critical for bringing customers back to your woocommerce website. Display your website and furthermore ensure that it redirects your customers to the cart page. If you want your customer to respond to your abandoned cart email right away, we recommend including a small discount that will entice them to buy the product.
Remember that your email subject line is critical in capturing your customer's attention. Create an enticing and convincing subject line that will capture your customer's attention.
Request Reviews on Both Your WooCommerce Store and Review Websites
You benefit from this because it raises your search ranking. Additionally, the product reviews persuade customers to buy; the more positive product reviews a product has, the more appealing it will be. The goal is to be laser-focused on achieving the best outcomes possible in this case. So make an effort to interact with your audience and persuade them to leave reviews whenever they buy new goods from you.
Write SEO Optimised Blogs
Although it may appear obvious, many businesses fail to do so. You must have a blog and share content on it if you have a WooCommerce store. Blogs provide you with constant exposure, not to mention that in the end. This will provide you with a stellar set of benefits in a short period of time; just keep your blog fresh and frequently updated; you do need to give your readers a reason to return. 
You can also notify your user base by sending them a monthly newsletter containing links to your most recent or best blog posts. Also, keep your posts informative; don't waste anyone's time.
You can also read: Top 6 Secrets About WooCommerce Product Addons
Conclusion
There are numerous other options to strengthen your woocommerce website, such as creating an appealing interface, a smooth navigational layout, and so on. You can use the steps outlined above to increase traffic and sales to your eCommerce website. If you want to outperform your competitors, avoid making the same mistakes they do.
The marketing techniques mentioned above will assist you in developing an effective strategy that will help you attract your visitors' attention, persuade them to spend more time on your woocommerce website, and more. There are numerous Woocommerce developers on the market, particularly those who specialise in Woocommerce product addons.