Posted By

acoweb_root

On

Wed, Dec 7, 2022
The eCommerce sites are shooting up each day as also the competition. To stay ahead of the WooCommerce markets, special strategies should be implemented. Enabling some plugins provided by WooCommerce like WooCommerce product addons drives more traffic to the site. Providing discount coupons on every purchase or redeemable coupons will fuel up the sale on every site and it helps to promote offers (for eg: Buy 1 Get 1). Plugins that provide unique codes for each customer to redeem in the next purchase are provided by the WooCommerce sites.
What are Digital Coupons?
Digital coupons are essentially discounts and promotions that merchants give to both new and return customers. They are aimed at consumers to offer some sort of discount, such as free delivery or a percentage off, that is determined by the store. Digital coupons are similar to traditional coupons in that they can be kept or loaded on a smart device online.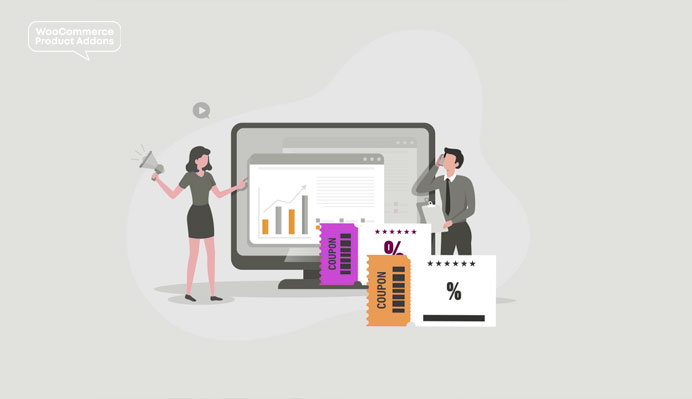 How Do Digital Coupons Work?
Due to the enhanced speed of a digital platform, digital coupons work as an easy-to-use coupon system that makes purchasing online goods more attractive and less expensive. Customers can choose the coupons they want and add them to their shopping carts so they can be applied at the checkout. Hence they are generated and added along with WooCommerce product addons plugins.
Benefits of Enabling WooCommerce Discount Coupons
Here, we have collected and put together some of the benefits of enabling WooCommerce coupons.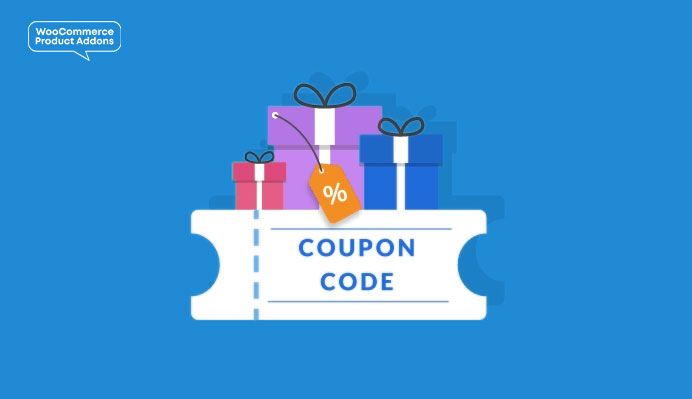 1. Reduce Advertising Cost 
The traditional way of marketing and advertising includes printing and putting on banners, making an advertising video or voice and displaying it on television and radio, or rotating out the pamphlets. However, these marketing measures will cost you an arm and a leg. Well-discount coupons are highly beneficial and cost-effective compared to discount coupons.
The cost of developing eCommerce digital coupon codes is inexpensive to the cost of traditional online shopping coupons. Furthermore, creating coupon codes is nearly free. All you have to pay for is the eCommerce coupon code generator and the discount offered for your coupon marketing campaign. Promo codes will bring in more potential customers to your sites and the Search Engine ranks will boost.
2. Earning Return Customers 
Providing a unique redeemable coupon code or a discount on their next purchase will encourage return customers to make a purchase next time. eCommerce digital coupons enhance the chances that both new and returning clients will return to your online store, becoming a part of your client base. As a result, it is crucial in client loyalty programmes.
3. Increase Website Traffic 
It is found that around 75% of internet consumers look for online coupons or discounts before shopping. Simply market your eCommerce digital discount codes on social media or run other email campaigns that reach a broader audience, and you can expect an average of 80-90% sales in return. You can also promote your coupon codes on your website and the websites of other coupon providers.
4. Add Coupon Codes with a Segmented List 
If you haven't started sending segmented e-Mail lists to your existing and new customers, then you are missing incredible tools. A segmented e-mail list with a discount coupon is an extremely beneficial tool to elevate traffic to any website. You can generate coupon codes for each customer or a set of customers and send them in the e-Mail campaign. Codes can be generated using a code generator and can create buttons with WooCommerce product addons to redeem them.
A poor-performing email marketing campaign typically generates 1-2% of revenues. So, if you augment your email marketing efforts with appropriate coupon-based offers, you're sure to experience a substantially larger return on investment, culminating in a successful sales campaign by any standard!
5. Getting Rid of Unsold Inventory 
One of the proven psychology of customers is that discounted products are consumed even if it is not required. Hence, to sell out and save your warehouse space, provide an attractive discount for unsold inventory. Thus you can bring in more new traffic and bring back old customers. This need is universal for any product, but if a product remains unsold, discounting it may become the only method to generate enough demand to send it. This can be caused by a variety of factors, ranging from a product being time-sensitive, such as perishables, to a simple underestimate of demand. Create buttons to redeem discounts using WooCommerce custom product addons and make sure they get discounts.
6. Increase Conversion 
According to a market survey, 83% of shoppers have made an unplanned purchase based on the availability of a coupon. Many studies have already demonstrated that digital coupons in eCommerce can help enhance conversions and decrease shopping cart abandonment. They operate as sales magnets and have a psychological impact on your consumers' purchasing decisions. Having eCommerce digital coupons on hand instils fear in your clients that they will miss out on great discounts if they do not act quickly.
7. Track Coupons with Metrics and Analytics 
Digital coupons for eCommerce give businesses the ability to track coupons, obtain numerous metrics, and produce analytical data on their success. As a result, the ROI of digital coupons can be tracked and reported more effectively.
How to Generate WooCommerce Coupons
WooCommerce offers exclusive feature like plugins such as WooCommerce product addons and coupon generators. Here, we are discussing the step-by-steps to generate coupons.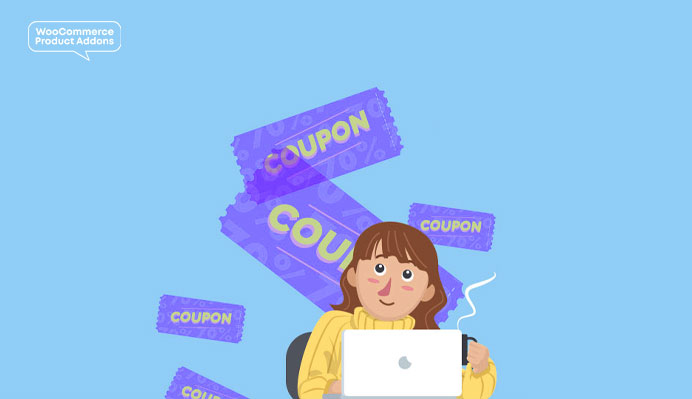 Step 1 – Add Coupon
Under the WooCommerce section, a coupon section is present to add coupons. To implement it, open WordPress dashboard, then go to WooCommerce and select the add coupon button. The add button is present on the top of the page and press add coupon button to generate coupon.
Step 2 – Generate Coupon
There is basically 4 steps to generate coupon
Discount types – There are three types of options available ie., percentage discount, fixed car discount and fixed product discount. You can do the one you require.
Discount amount – You can enter the minimum or maximum discount you provide.
Allow free shipping – If the coupon also includes free shipping, check this box. A separate voucher can be made for free shipment.
Coupon expiry date – Check the date when the offer starts and ends.
Step 3: Usage Restriction Section
If you are an online consumer, you see the discount provided under various conditions and segments. Usage restriction section is the location where we provide such conditions for each coupon. In this section, you can additionally specify which products or categories the voucher is valid for. The user restriction section therefore comprises 9 fields to assist you in configuring the voucher with criteria and exceptions.
Minimum spend: The amount that must be spent in order for the coupon to be valid.
Maximum spend: The maximum a customer can spend to enable the coupon.
Individual use only: Verify whether this coupon and any others can be used together.
Exclude sale items: Verify that the coupon is not valid on discounted items.
Product categories: Decide which products the coupon is valid for.
Exclude products: Decide which goods the coupon does not apply to.
Choose the product categories to which the coupon applies.
Choose the categories from the drop-down menu that the coupon does not apply to.
Email limitations: List of emails, separated by commas, that have access to the coupon.
Step 4: Usage Limit Section
You can set a limit on the maximum number of products and the maximum number of times a customer can use a WooCommerce coupon in the Usage Limit section. The limit options provided by WooCommerce are as follows:
Usage limit per coupon – select the number of times the voucher can be redeemed before it expires.
Limit usage to X items -Enter the maximum number of items for which the voucher can be used (for product discounts).
Usage limit per user – Select the number of times each client may utilise the coupon. 
Also Read : 10 Maintenance Tips for Enhancing Sales on WooCommerce Websites
Conclusion
When making an online purchase, today's consumers strive to get the greatest value possible. These sales and ROI accelerators have an impact on retail enterprises as well. WooCommerce digital coupons are quite important in your marketing and sales plan. You can also construct an automated code generator plugin to generate coupons automatically. WooCommerce vouchers are a fabulous but limited feature. To mention a few useful features, they provide category discounts, email scheduling, and email restriction. However, you can find many efficient and beneficial plugins like WooCommerce product addons, Optinmonster, MonsterInsights to name a few. Now start providing discount to new and old product and boost your sales and business.